Desain Logo Perusahaan dan Brand yang Berubah di Tahun 2013
www.ideapreneur.id – Desain Logo Perusahaan dan Brand yang Berubah di Tahun 2013 yaitu Burger King menjadi nama Fries King, logo desain pada Google, Firefox, Yahoo, Starbucks, Facebook, VH1, SAAB, American Airlines, Nivea, Lucky Strike, Billboard, Instagram, P&G, Pegadaian, FIF, Bank Mega, Telkom Indonesia, PTPN 5, dan lainnya.
Apakah Anda menyadari bahwa tahun 2013 ini banyak perusahaan dan merek-merek di Indonesia dan dunia internasional merubah desain logo mereka, ada yang mengganti nama atau merubah elemen identitas seperti gambar gunung di bawah logo AQUA. Kita akan saksikan siapa saja yang berubah pada brand identity atau corporate identity mereka.
Mengejutkan Oktober tahun ini, Burger King secara tiba-tiba mengganti nama mereknya menjadi Fries King
Dalam rangka memasarkan Satisfries, produk kentang goreng terbaru, Burger King pun mengganti namanya jadi Fries King!
Kita lihat di Indonesia terlebih dahulu, banyak diantara perusahaan BUMN merubah identitas mereka. perhatikan perusahaan dan merek apa saja yang berubah pada brand identity atau corporate identity mereka.
Pegadaian (BUMN) pertengahan Januari lalu melaunching desain logo baru
Baca info lengkapnya
FIF Finance dan Spektra di bawah naungan FIF Group, simbol sidik jari menjadi imej barunya
Baca info lengkapnya
Slogan baru Bank Mega "Untuk Indonesia yang Lebih Baik" diimplementasi pada logo baru
PT.Bank Mega TBK. masih merupakan bank yang kepemilikannya 100% milik warga Indonesia, saat mayoritas usaha di sektor keuangan Indonesia dimonopoli oleh asing
Di usianya yang ke-40th AQUA mengenalkan elemen baru, gunung yang aktraktif berwarna warni
Perubahan corporate color mulai diperkenalkan ketika menjadi sponsor program Ramadhan di TV, Telkom Indonesia
Penampilan logo baru Telkom Indonesia mencakup perubahan warna logo secara menyeluruh dan terintegrasi dengan empat aspek dasar perusahaan, yaitu transformasi bisnis, infrastruktur, sistem dan model operasi, serta sumber daya manusia.
Di Hari Jadinya, BUMN yang satu ini: PTPN 5 Siap Bersaing di Perdagangan Global dengan logo baru
Di awal Januari, VH1 merubah logonya dari ini
VH1
… menjadi begini. Arti plus pada VH1 dimaksudkan untuk menekankan bahwa jaringannya adalah "ultimate mash" dari musik dan TV realitas.
Ingat desain logo SAAB?
Saab
Sebuah perusahaan otomotif Swedia ini telah membunuh simbol grifonnya.
Saab
American Airlines memutuskan untuk update logonya untuk terakhir kali sejak 45 tahun lalu.
American Airlines
Elangnya menjadi tidak utuh!
American Airlines
Tazo tea, merek dagang milik Starbuck, dari gotik seperti ini
Tazo
… menjadi tampilan yang bersih sederhana.
Tazo
Nivea telah menggunakan logo ini sejak 1925.
Nivea
tapi berubah imejnya pada tahun ini.
nivea
Billboard berubah dari uppercase …
Billboard
… to lowercase.
Billboard
Harvard University Press' logo jadul diganti
Harvard University Press
.. menjadi logo yang minimalis nan cantik. Sebuah susunan garis. (Bidang putih menunjukkan huruf "H.")
Harvard University Press
Pada February, The Vitamin Shoppe decided to switch its recognizable logo.
The Vitamin Shoppe
Logo barunya memfokuskan pada huruf "V."
The Vitamin Shoppe
In an attempt to distance itself from its infamous founder Lance Armstrong, Livestrong subtly changed its logo in March.
Livestrong
Now there's no more "Lance Armstrong Foundation" lettering.
Livestrong
This is the classic Miami Dolphin logo.
The Miami Dolphins
This new logo was leaked in early April. The dolphin apparently no longer needs a helmet for protection.
Miami Dolphin
*Note: We previously had an image of a leaked new Dolphin image that didn't have an eye. This is the accurate new logo.
Lucky Strike also had a logo change. It went from this …
Lucky Strike
… to this. The font is going for a curvier look.
Lucky Strike
The woman in the WNBA logo used to dribble.
WNBA
Now she dunks.
WNBA
Facebook's new and old logos are almost indistinguishable. Here is the old one:
Facebook
And here is the new one. Now the "F" has no definitive bottom.
Facebook
Along with Facebook's altered logo, Instagram also decided to make changes in May. Here's the old one:
Instagram
And here's the new one. The cursive font is slightly different.
Instagram
Procter & Gamble used to be pretty simple.
P&G
But in May, the company decided to reintroduce the sliver of the moon that had been in previous logos since the 1850s.
P&G
Procter & Gamble took away elements of the old logo (including a moon and stars) because critics accused the company of spreading a Satanist agenda.
Procter & Gamble
Up through May 2013, Rupert Murdoch kept his company named "20th Century Fox."
20th Century Fox
It has finally entered the 21st century.
21st Century Fox
Motorola's logo used to look like this:
Motorola
It changed to this in June. In case you missed the familiar color scheme, the bottom line reminds you that it is a Google company. The letters are also now in lowercase.
Screenshot
Firefox underwent a subtle logo change.
Firefox
It's … virtually identical! Although designer Sean Martell gave an in-depth explanation of the changes on his blog.
Firefox
Google logo baru, menghilangkan efek bevel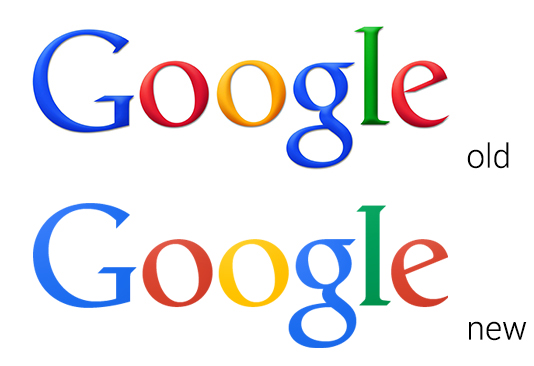 On July 1, Ernst & Young announced a logo change. Here's the old one:
Ernst & Young
And here's the new one. In color.
Ernst & Young
The Dow Jones switched from this closely-knit lettering …
Dow Jones
… to this. The words are further apart and more colorful.
Dow Jones
Struggling RadioShack was in need of a makeover.
Radio Shack
So it got a fatter "R."
Radio Shack
Hooters changed its logo for the first time in 30 years.
Hooters
Same idea. Slightly sleeker bird.
Hooters
Sumber: Business Insider, Food Detik, Harian Jaya Pos, Riau Pos,