Tutorial Membuat Poster Politik Caleg 2014
www.ideapreneur.id  – Tutorial Membuat Poster Politik Caleg 2014 ini menggunakan gaya ilustrasi yang meski bukan hal baru, tapi pernah jadi trend ketika kampanye Obama menjadi kandidat presiden Amerika. Tutorial diberikan oleh Zach Wentz di tutsplus untuk membuat ilustrasi vector wajah kandidat politisi menggunakan program Illustrator.
Dengan tingkat kesulitan menengah (intermediate), tutorial di bawah ini dapat diselesaikan 1 – 2 jam bagi yang terbiasa menggunakan Adobe Illustrator. Hasil jadi poster yang akan di buat adalah :
Palet Warna
Palet warna yang akan kita gunakan untuk tutorial ini adalah empat warna dan pola. Kami akan menggunakan perpaduan warna biru krem dan terang.
---
Step 1
Untuk efek yang terbaik adalah pakailah gaya gambar potret, sebaiknya dari subjek yang tampaknya sedang berpikir, atau memandang ke kejauhan. Saya menggunakan foto ini dari iStockphoto.
---
Step 2
Setelah memiliki foto tersebut, kamu perlu buka photoshop dan crop gambarnya dengan pas. Bagian atas gambar harus dipotong di atas kepala dan bagian bawahnya harus sedikit lebih tinggi di atas dada. Perbandingan cropping sekitar 2:1
---
Step 3
Sekarang pergi ke Image> Adjustments> Posterize. Tingkat posterisasi sesuai untuk tampilan tutorial ini akan adalah 5.
---
Step 4
Sekarang kita buat layers untuk digunakan di Illustrator. Mulailah dengan menduplikasi layer posterized tadi, dan namai layers "Pattern Guide". Lalu klik Image > Adjustments > Threshold. Kita akan geser titik sampai kita dapatkan bentuk yang seperti di bawah ini. Hasilnya ingin lebih gelap, tapi tetap ada sedikit detail. Ketika menggunakan Treshold, gunakan Peaks yang terbaik yang kamu lihat di preview.
---
Step 5
Simpan ini layer yang baru dibuat sebagai "patternguide.psd," atau sesuatu yang mirip, karena kamu akan membutuhkannya untuk Illustrator.
---
Step 6
Kita perlu ulangi Step 4 dan Step 5 tiga kali lagi. Setiap kali menerapkan batas rendah Threshold, simpan sebagai layer baru. Berikut ini adalah pengaturan yang saya gunakan, sekali lagi lihat Peaks Threshold level-nya.
---
Step 7
Sebelum kita mulai menguraikan lapisan kami, kita perlu menciptakan pola garis biru horizontal. Untuk melakukan hal ini membuat dokumen Illustrator baru. Memberikan Tinggi dan Lebar 4px. Kemudian membuat sebuah persegi panjang yang penuh dengan warna biru terang kita (# 4F919F), dan menutupi bagian atas kanvas.

---
Step 8
Menutupi bagian bawah dengan persegi panjang yang penuh dengan beige. Kemudian Pilih Semua (Ctrl + A), dan tarik lebih ini untuk kami Swatches Palette. Selamat Anda telah membuat pola!
---
Step 9
Sekarang kita harus save Swatch Set ini, jadi kita bisa menggunakan itu dalam poster kita. Di sudut kiri bawah Swatches Window kita akan menyeleksi Save Swatches dari Swatches Library Menu. Namai apa saja yang kamu suka, Saya pakai "pattern". Kamu bisa tutup dokumen kini, kita tidak perlu lagi ini.
---
Step 10
Sekarang kita telah mempunyai panduan dan pattern telah dibuat. Waktunya membuat satu dokumen baru di Illustrator. Saya gunakan canvas size of 700px x 850px.
---
Step 11
Kita pergi untuk memulai panduan layer yang paling gelap. Kita akan membuat outline layer menggunakan Pen Tool. Jadi untuk memulainya pergi ke File > Place dan seleksi panduan layer pertama kita ke dalam Illustrator. If you've been following verbatim, this file to place is called patternguide.psd.
---
Step 12
Let's stop for a moment and discuss the proper use of the Pen Tool in Illustrator. This is one area where Illustrator handedly trumps Photoshop, but only if you use it correctly.
For any curve you basically have three clicks; two are anchor points, and the other is your curve point. You place your curve point at the highest point of your curve. You place the anchors at where the curve starts and ends.
One click is all that is needed when you are creating a curve. You can then change the curve points to curves after you have done the entire shape. To convert them use the Direct Selection Tool (A) and click on the Convert Selected Anchor Points to Smooth icon.
>
---
Step 13
Before we can outline our first layer, we need to load our Pattern into the Swatches Library. To do this select Other Library from the Swatches Library Menu in the Swatches window. Then load the Swatches file you saved from Step 9.
---
Step 14
Okay, so back to outlining our first layer. Create a new layer below the file you just placed into Illustrator. This layer will hold our outline. We place it below because it is easier to see what we're outlining that way.
Now we grab our Pen Tool, give it a Stroke of None, and a Fill of our pattern. Then start outlining all the black areas with the Pen Tool. The key is to average it out, don't follow too closely to the guide layer. Just roughly outline, and don't worry about our curves, as we'll fix that after we create our outline. Note: This is the most tedious part of the process.
---
Step 15
You might have noticed that there are portions in the middle that are lighter that we just went right over with outlines. Well we're going to fix that by outlining those using the same process. Fill those with our beige color, as shown below. We'll do this on a new layer just above the pattern layer. After you've done that, you should have something similar to the following.
---
Step 16
Now we smooth out the shapes we just created. We want most of our points to be smooth, but I find it looks better if you leave a few the way they are. View the effect below from smoothing both the pattern and beige layer.
Note: I made this image out of order and the pattern was wrong, don't worry about the color difference.
---
Step 17
Now we just do this same thing for each layer. Roughly outlining it, then outlining the highlights with the color immediately below it, and then smoothing out our outlines. The next layer should have solid light blue, followed by red, and then finally our dark blue.
---
Step 18
Okay, you should have something like the following. The tedious part is over. Now to make it look like a poster. First we'll put a beige filled rectangle below all these layers, this will serve as our background.
---
Step 19
Now we'll need to put our red and light blue halves in. We're going to do this just above the beige rectangle layer. Use the Rectangle Tool to place the two rectangles.
---
Step 20
Our poster is looking pretty good. Let's create the space needed to add the inspiring text at the bottom. You'll probably have to enlarge your canvas area. To do this go to File > Document Setup. I added 300px onto mine.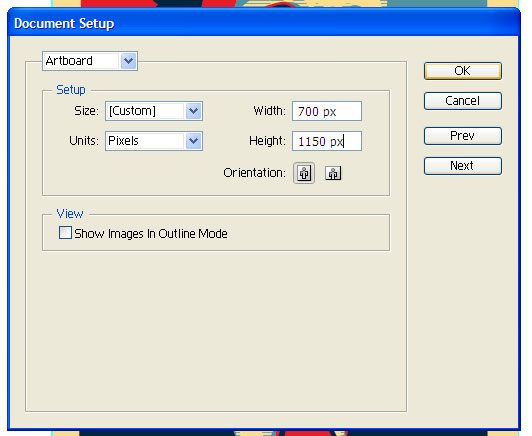 ---
Step 21
Now extend you beige rectangle so that it covers the new length of your canvas. Then create a new rectangle filled with our dark blue color. It should be a quarter the size of main subject.
---
Step 22
Time to add our inspiring word. We'll use light blue for the font color, and we want to change the text settings so that the word fills most of the dark blue rectangle. To change the spacing between the characters, use the Character Menu. This is available to us when we are using the Text Tool. I used the font Myriad Pro.
>
---
Step 23
Almost finished, we need to clean up our borders a little bit. First, select every layer, but your beige layer. Then create a Group (Ctrl+G). Then Vertically and Horizontally Align them to the artboard.
---
Step 24
Now we're going to clean up the edges of our poster. Cover the layers that we grouped in a rectangle of any color. Then use the Pathfinder Tool, and select Subtract Shape From Area.
---
Conclusion
Way to go, we're done! We managed to create a really awesome effect without needing a whole lot of artistic ability. We also learned how to efficiently use the Pen Tool, and a nice way to use Photoshop and Illustrator in tandem. This is my first tutorial, so I'm sure there will be questions. Feel free to ask in the comments, and I'll try and answer as quickly as I can. Thanks!
Untuk format ilustrasi di atas dapat mudah diaplikasikan pada sablon kaos partai pemilu 2014, stiker kandidat pileg, poster dan spanduk pilkada, dan lain-lain.